Customer Review – my experience with LED Light Therapy
On booking in for her first Dermalux LED Light Treatment, we asked our lovely client, Michelle to share her experience, so those of you new to LED can get a more in-depth understanding of what it's like.
Here's what she had to say during our Q&A session:
Michelle, aged 48 from Lane Cove
Q – Have you ever done LED Light Therapy before?
Yes, once before around 18 months ago at a salon in the city. The machine was very different though, and they had to stop several times to change the sequence of light colours as the device could only do one colour at a time.
Q – Can you take us through your appointment at The Beautician?
I booked a 45-minute stand-alone LED treatment in March. When I arrived, I had a quick chat with Zena about my skin concerns and completed a treatment form which I was told will be used to record and monitor the combination of lights used, and any feedback on my skin's condition.
Zena determined the best combination for me would be all three lights – blue to help with some hormonal acne on my chin, red to brighten and hydrate the skin, and infrared to target a few sunspots and uneven pigmentation around my cheeks. I also opted to have my photo taken before and after so I could track my progress.
I was taken to the treatment room where I popped on a gown, leaving my neck and shoulder exposed so they could also benefit from the light treatment. After lying down in a comfy position, my face was thoroughly cleansed to remove makeup and then a gentle exfoliation was applied using a smooth rotating brush to get rid of any dead skin. A quick rinse with some warm towels and my skin was ready!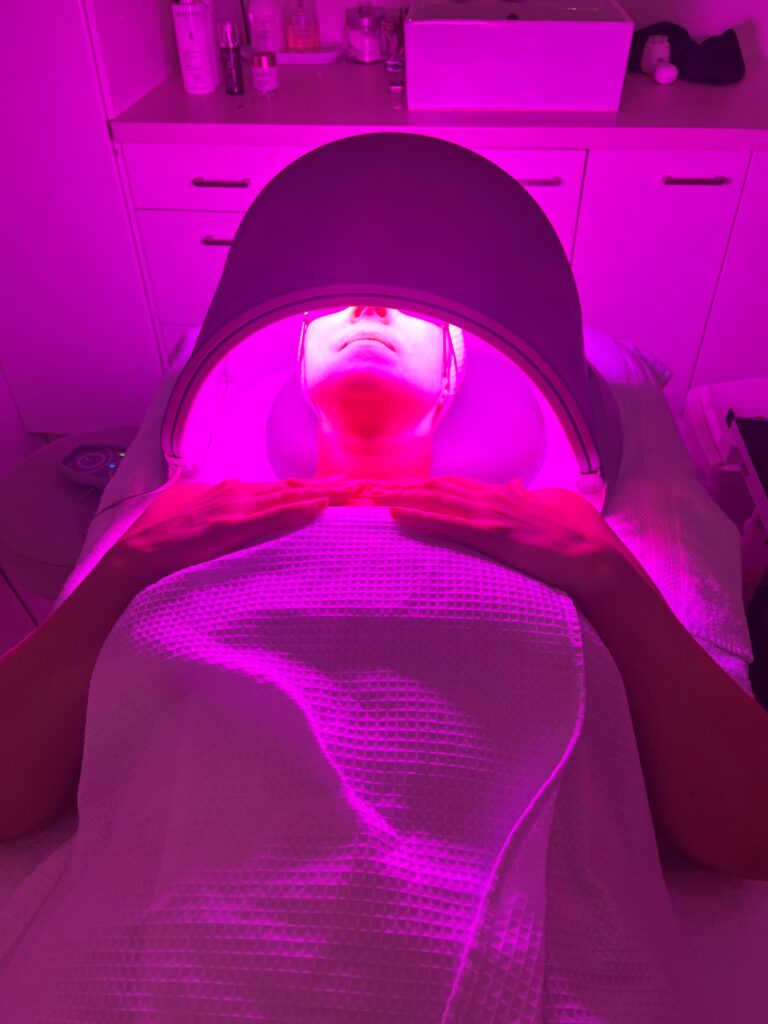 The small cocoon-shaped machine was placed above my face, and I popped on some goggles to protect my eyes. I was also offered the chance to either enjoy the music in the salon or listen to my own music or podcast with my Air pods. It was now relaxation time under the lights, and even though I had the goggles on, I could still see a warm light with my eyes closed – which was actually quite nice.
I also placed my hands at the top of my chest so I could give the skin a little TLC while I was there. The next 30 minutes under the lights were a highlight, and super relaxing (I think I fell asleep a couple of times – hopefully not snoring!). There was a gentle warmth to the skin – a bit like lying in the sun on a cold winter's day. Zena checked in a couple of times to see if I was ok, and with 5 minutes to go, she came in and gave me a lovely hand massage.
Light therapy was all done, the machine was removed, and moisturiser was applied to my face. I was also given the option of sunscreen if I was heading outdoors, but I skipped this as I was going straight home.
Q – How did your skin feel straight after the treatment, and in the days after?
My skin felt lovely and smooth and definitely had a nice glow straight after. In the days following the treatment, my pimples had certainly calmed down, and some of the previous acne scars looked a little less obvious.
Q – Would you go back for another treatment?
Yes – in fact I've purchased a 6 session pack (which gets me one for free), as I liked the way my skin felt afterwards, and want to do a short burst of treatments to really target my pigmentation (and a few fine lines as well). I found the treatment really relaxing and felt like I was in a much calmer mood after.
To learn more about Dermalux LED Light Therapy and the science behind how it works – visit our information page HERE . Keen to book a treatment to experience it for yourself – call the salon or book online: