Dermalux® LED Light Therapy
After months of extensive research and product testing, we're excited to offer our clients multi-award-winning Dermalux® LED phototherapy treatments here at The Beautician. When it comes to LED Phototherapy, there are many inferior products on the market, so it was important we found the right provider to deliver an effective and safe treatment here in the salon, and provide extensive training for our therapists.
We chose to partner with Dermalux® as their Tri-Wave systems use Blue 415nm, Red 633nm and Near Infrared 830nm – the ONLY internationally recognised and clinically evidenced wavelengths for LED Phototherapy. They have a great international reputation and have undergone clinical trials to prove efficacy and safety. It is the leading non-invasive treatment that harnesses the power and beauty of light for visibly radiant, rejuvenated and refined skin and the real-life results are very impressive!
Dermalux® LED Phototherapy is clinically proven to treat a wide range of cosmetic and dermatological skin indications, naturally stimulates skin rejuvenation, and resolves problem conditions. Due to its ability to activate cellular processes without transferring heat or creating trauma, the versatility of LED Phototherapy is greater than many other advanced skin treatments.
Dermalux® can be used as a standalone treatment for the indications outlined below. It can also be integrated with our existing Sothys facials to enhance and accelerate results as part of an ongoing skin care program.
LED Phototherapy has been shown to be effective for:
• Skin Rejuvenation: fine lines, complexion and texture
• Acne-prone skin
• Rosacea, redness and flushing
• Hyperpigmentation
• Dehydrated and lacklustre skin
• Inflammatory conditions
• Accelerated healing and pain relief
• Relaxation, well-being and mood lifting

From the first treatment, Dermalux® instantly energies skin cells – boosting the complexion and restoring vitality and glow. A treatment course offers cumulative benefits and can be targeted to specific concerns – stimulating the skin's natural rejuvenation and repair processes to accelerate cell renewal, resolve problem skin conditions and promote vibrant, healthy skin.

How Does it Work?
Our skin has the ability to absorb light energy and use it to stimulate or regulate essential cell processes. LED phototherapy is the application of beneficial wavelengths from the visible and infrared parts of the light spectrum that has proven skin-enhancing benefits. Skin cells that are energised function better and can renew up to 200% faster – accelerating regeneration and repair.
What does the Treatment Involve?
Dermalux® is a relaxing, pain-free experience with proven mood-enhancing effects. Indulge in some all-important 'me time' as your skin absorbs the energising light to kick start cell regeneration, calm irritation and restore radiance. With no downtime, you can simply get up and glow. You can read an honest review from one of our clients on her experience with the treatment here in the salon. Client Review
Our 45 Minute stand-alone treatment ($115) includes:
An initial skin consultation to discuss your skin condition and concerns. Your therapist will then determine the best combination of lights for your therapy for maximum results.
A cleanse and gentle exfoliation using our Sothys products to help remove any impurities and prepare the skin for treatment
30 minutes of relaxing LED Light therapy (the combination of lights used will be tailored to your skin) needs)
Hydrating Hand Massage
Finish the treatment with moisturiser and sunscreen applied to your face.
For those looking for a little more, we also offer a Dermalux® LED Deluxe Facial Package (75 minutes – $185), which includes a deep cleanse, LED Light Therapy, and massage, followed by a targeted masque to reveal radiance and true luminosity.
If you have a favourite Sothys Facial here at The Beautician, we can also add 20 minutes of LED Light Therapy into the treatment for an additional $65.
Regular users can take advantage of complimentary treatments when purchasing a 6 or 12 LED Treatment Pack.
What are the Benefits?
Dermalux® uses unique combinations of clinically-proven Blue, Red and Near Infrared wavelengths to boost collagen production, increase hydration, calm redness and irritation, and blitz blemish-causing bacteria. And because the light triggers a torrent of skin-enhancing processes, the benefits continue even after the treatment has ended. Here's how each of the 3 LED lights work: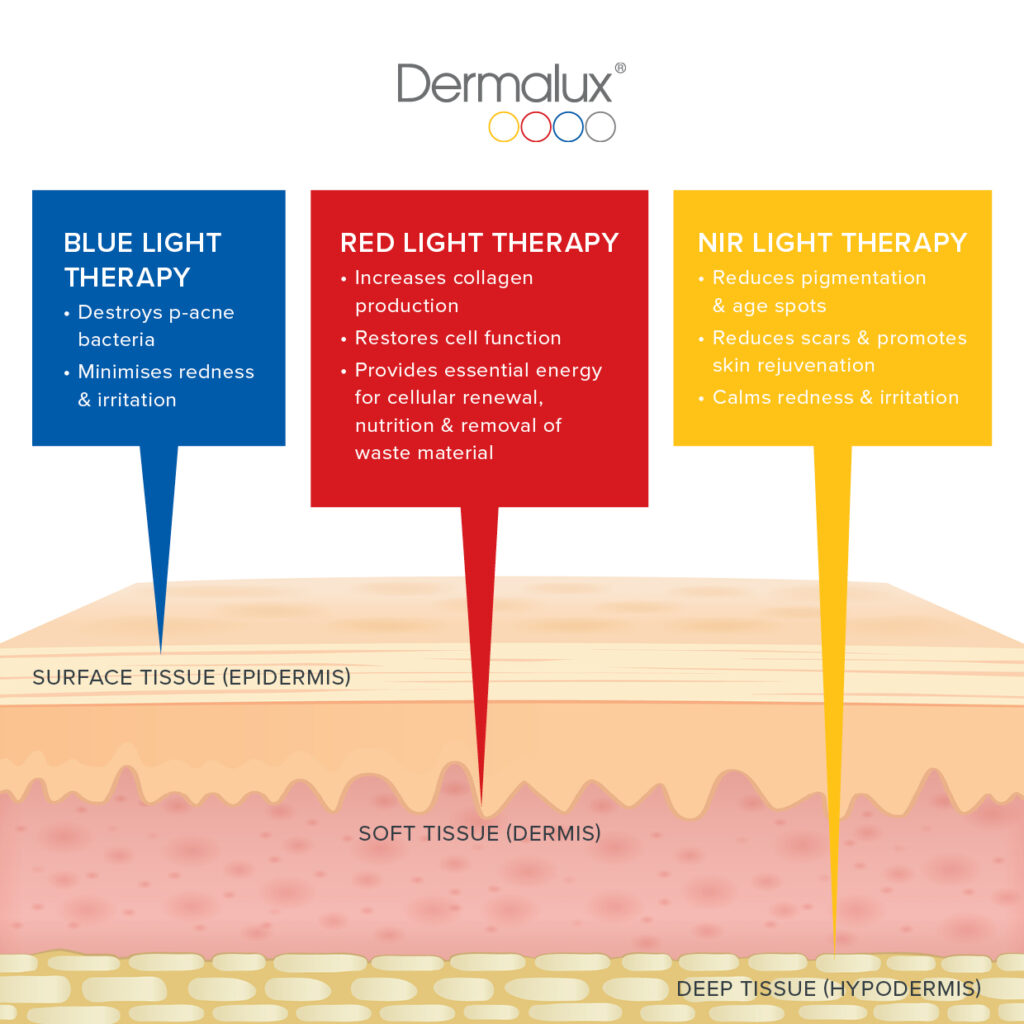 Blue 415nm
Blemish-fighting Blue light destroys the bacteria which cause spots and helps in the prevention of breakouts. Exposure to Blue light at 415nm interacts with the p.acnes bacteria creating a photodynamic reaction that results in bacterial destruction. It also helps to balance sebum production and improve skin clarity. Applied in combination with Red and Near Infrared light, the Dermalux® Tri-Wave treatment offers enhanced anti-blemish results and is excellent as a post-treatment procedure to help minimise breakouts and reduce redness.
Anti-bacterial action without irritation
Helps blemish prone skin
Prevents breakouts
Balances oil production
Improves skin clarity
UV Free alternative for eczema, psoriasis and dermatitis
Red 633nm
Rejuvenating Red light accelerates cell renewal and repair, boosting collagen and elastin synthesis for smoother, firmer skin. Exposure to Red light at 633nm is clinically proven to increase the body's natural form of cellular energy (ATP) which in turn "kick starts" cells to regenerate faster. Red light is potently absorbed by fibroblasts increasing collagen and elastin synthesis and boosting natural hydration levels. It also improves blood flow for increased tissue oxygenation and the lymphatic systems to eliminate toxins. Red light offers immediate visible results; skin feels hydrated and plump and radiance is restored.
Boosts collagen and elastin production
Improves complexion, texture and tone
Reduces fine lines and wrinkles
Increases skin hydration
Evens skin tone and texture
Shrinks enlarged pores
Revitalises and restores radiance
Near Infrared 830nm
Exposure to Near Infrared light at 830nm triggers the skin's anti-inflammatory processes to accelerate repair and reduce irritation and redness. Near Infrared light builds strength and integrity for compromised, environmentally damaged and sensitive skin conditions. It is also clinically effective in the treatment of age spots and hyperpigmentation.
Reduces pigmentation
Scar reduction and prevention
Relieves pain and inflammation
Advanced skin rejuvenation benefits
Treats rosacea
Calms redness and irritation
Reduces age spots and pigmentation
Promotes healthy skin
Ideal for the most sensitive skins