Skincare for Him
We're pleased to welcome Australian made, men's skincare label, Charles + Lee to our stable of products available in Salon. It's no fuss skincare for men – and super affordable. PS – each product package contains a fun little unique quote that your man will love (eg: This Oil Free Moisturiser does not contain gold from Tutankhamen's tomb, nor does it make you a better lover. But it's a damn good moisturiser. )
Developed by two men with lots of experience in the skincare industry – this is their mission for Charles + Lee:
With a mission to bridge the gap between women's spin off ranges and ridiculously priced niche brands, Charles + Lee set out to give men the tools they need to keep their skincare neat.
We won't tell you our products contain rare minerals that have been harvested by the light of a full moon. We won't tell you our products contain smoked wood chips sourced from an ultra-manly lumberjack who wears flannelette and fights bears for fun. What we will tell you is that our products are effective, affordable and they look great. We've left the fancy marketing jargon out and put the natural and organic ingredients in.
With over 10 years experience in skin care formulation and cosmetic science behind us, we have a hands-on approach to production and development to ensure you know exactly what goes on your skin and in your bathroom.
Charles + Lee is made in Melbourne, cruelty free, and is proudly RSPO certified.
We have a range of sets and individual products in salon – so pop in or give us a call if you'd like to order by phone (02 9420 8880), and we can deliver FREE to the local area (or post to you with a small delivery fee if outside the area).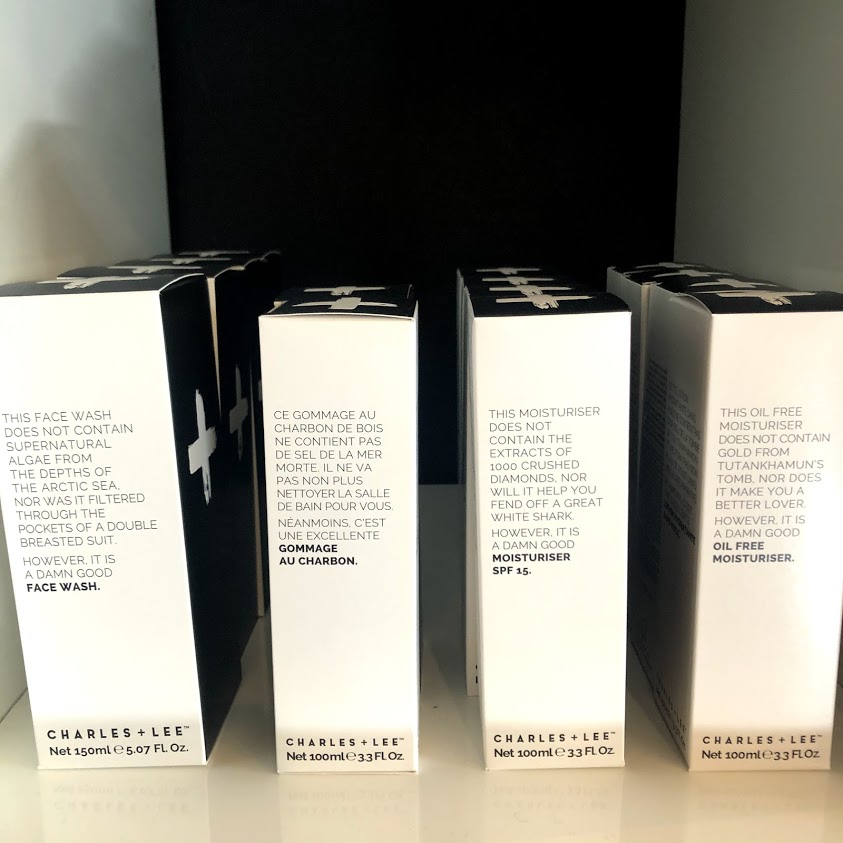 PRODUCTS AVAILABLE:
Skin Basics Kit – $29.95

1 x Face Wash 150ml
1 x Moisturiser 100ml
1 x Reusable Matte Black Tin

Daily Essentials – $39.95

1 x Face Wash 150ml
1 x Moisturiser 100ml
1 x Hand & Body Wash 500ml
1 x Reusable Toiletry Bag

Active Man Kit – $49.95

1 x Face Scrub 150ml
1 x Oil Free Moisturiser 100ml
1 x Shave Gel 150ml
1 x Hair & Body Wash 250ml
1 x Reusable Toiletry Bag

Individual products for sale including Face wash, Moisturiser, Face Scrub, body wash, shave gel range from $16.95 – $19.95 each