LashFood – see results not side effects!
Company Background – Lash Food
LashFood is dedicated to delivering a line of luxury, clinical cosmetics using nature's most potent ingredients. You don't have to compromise professional results for healthy and safe ingredients. Their products are created by pioneering lash and brow experts for users to take the spa experience home. We are stocking a range of LashFood and BrowFood products including the Phyto-Medic Eyelash and Eyebrow Enhancers, Conditioning Mascara, and Brow Pencils.
How does it work?
Applied daily for 12 weeks, and created by a team of cosmetic scientists, this breakthrough, powerful formula is clinically demonstrated to provide the appearance of longer, thicker lashes and to support frail and brittle lashes to appear healthy and strong. Enjoy visibly different, stunning lashes. Infused with Phyto-Medic Complex, the LashFood Eyelash Enhancing System delivers nutrients to feed lashes with nature's most powerful ingredients.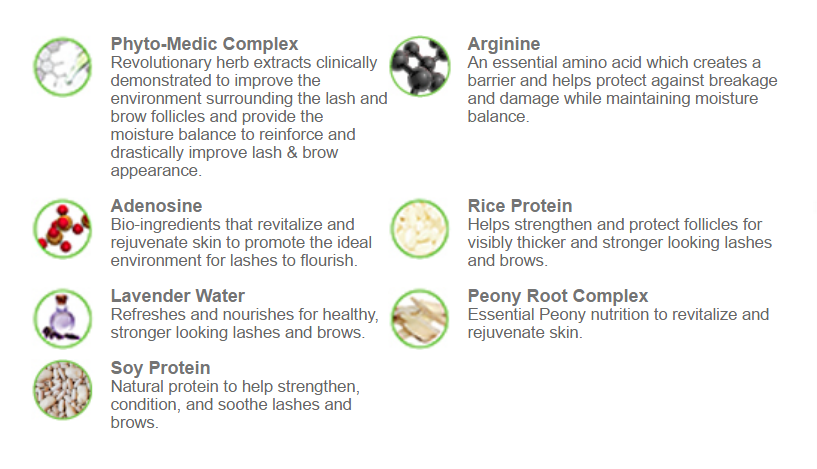 Purified Beauty.
The daily approach to flawless lashes and brows is made with skin-loving ingredients that make a noticeable difference; now, and in the long run. Formulas are:
Dermatologist tested and non-irritating so you only notice results, not side effects
Drug free, sulfate free, phthalates free, and synthetic-fragrance free
Never tested on animals
High Performance Do Good Beauty.
More details on ingredients used can be found here
Makeup that is good for you.
Every LashFood and BrowFood makeup product is infused with nutrient-rich, Nano-Peptide Complex. This bioengineered peptide nourishes and feeds lashes and brows all day to help support healthy, restored lashes and brows.
Sustained Beauty.
Dedicated to responsible harvesting practices and reforestation projects. We've put in place several initiatives to minimize our carbon footprint:
Our packaging components are made with Ecocert compliant, recyclable materials.
Marketing materials is printed with vegetable based & soy based inks and recyclable water base coating on paper sourced from sustainably managed forests who participate in a 100% recycling program.
Our ingredients are sustainably harvested and evaluated for its environmental impact towards biodegradability and ecotoxicity.
Our corporate headquarters as well as manufacturing plant have set up an Environmental Management Program.
SEEING IS BELIEVING
Women, between 19 and 44 years of age, completed a 16 week study to evaluate the efficacy of LashFood Phyto-Medic Eyelash Enhancer, to increase the appearance of eyelash length, fullness, and thickness. Subjects applied the conditioner along the base of their lashes every night along the lash line. Close-up photography of clinical study subject's eyelashes at Weeks 0, 4, 8, 12, and 16 are shown below. For more details on the clinical trial – click HERE